How do people reach my website is one of the questions our clients often ask? Everybody wants to know how well their website is doing and there are some useful tools for assessing this, but to get beyond the numbers the findings need a bit of interpretation. 
If you have a website you should already have Google Analytics set up. It's free, and it tells you lots of interesting things about traffic to your website.  In a series of blogs, Simon Burton of Holdsworth Associates,  provides a quick guide to Google Analytics.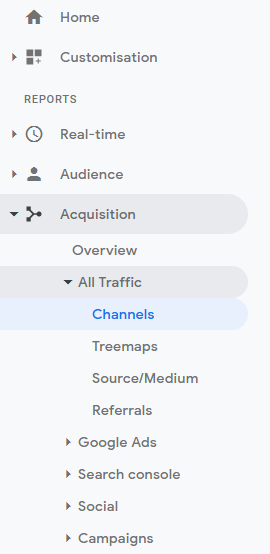 How do people reach my website?
One of the biggest questions is Where do people come from to get to my website? or How do people get to my website?
The Acquisition – All Traffic view tells you what you need to answer this.
The Channels view divides your site visitors into groups, which you can then break down further to find more specific figures. The six most common (at least for us) are:
Organic search: Visitors who found the site using a search engine (such as Google)
Paid search: Visitors who accessed the site through Google adwords and advertising
Direct: Visitors who arrived via a browser bookmark, typing the URL into their browser, a link in an offline document (pdf or Word), or from a source Google was unable to register
Social: Visitors from a social media page (Twitter, Facebook LinkedIn etc)
Referral: Visitors from another website
Email: Visitors from a recognised email host
With these groupings, and then the further breakdowns, you can see from where you get most of your visitors, as well as how they got there.
Of these, the three we find most useful are Social, Referral and Organic search.

With Social you can see which social media networks are the most successful for your site; this is particularly useful if you promote your content across your own social media channels, as you can see which of your social audiences are most responsive. Using the graph, you can also see when certain social media channels see the most hits to your site, which might be useful in planning a social media campaign.
However, it can also be useful in finding out if other people are sharing your content across social media; for example, if you find you are receiving traffic from Facebook, despite not having a Facebook page attached to your site, it is clear that other people are sharing your content across a resource which might be worth exploiting.
Referral shows you the websites from which people have come – otherwise known as backlinks. This is an important traffic source, because Google will rank your site higher in search results if other websites (especially reputable ones) link to your site (and if you then link back). You can also see the pages visitors land on from these sites – this is potentially interesting if there is not an immediate obvious connection to your web page (are they linking to you for reasons other than they or one of their employees or products are mentioned on your page?).
Organic search is potentially the most useful, as it not only shows you the top landing pages people find through Google, but also the search terms that were used to reach your website. However, this useful feature requires the use of another Google tool: Google Search Console. We will look at how Search Console can help answer this question in the next blog.